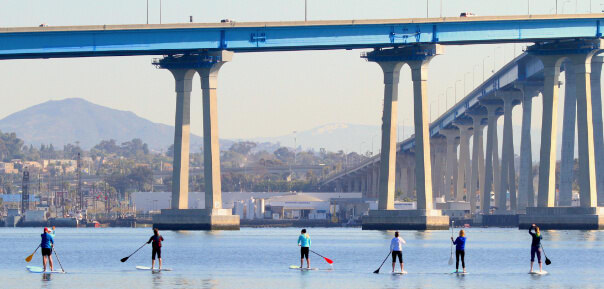 SUP Coronado Options
Reservations & Costs
All Reservations for Lessons, Tours, and Rentals Are by Appointment Only.
We suggest booking appointments for early mornings or around sunset to avoid paddling against the wind (peak wind hours range from 12:00 – 4:30 pm).
Lessons range from $50 – $100 based on group size.
Rentals are a flat rate of $35 for a couple of hours in the bay. Group / multiple day and military discounts are available, as are wetsuits.
Paddleboard Brewery Tours
Start out with a 1 HOUR bay paddle then hop in a Mercedes Sprinter for a brew tour to 2 local craft breweries. 2 beers and lunch included for $90. Group discounts are available. Aprox 3.5 hours. As seen on airBNB experiences.
Bay Tour
Learn the basics from one of our expert staff as you paddle along the immaculate San Diego skyline, around ancient sail boats, and under the Coronado Bay Bridge. This option is recommended for beginners- we'll guide your stance & stroke, while enlightening you on some Coronado trivia. The bay tour lasts 1 – 1.5 hours.
Ocean Lesson
For paddlers who are looking for more of a challenge or have already mastered the calm waters of the bay. Attempt to catch some waves or just take in the beautiful emerald waters, play with sea lions, and enjoy the view of Coronado's beaches. Wetsuits provided. The Ocean Lessons last between 1 – 1.5 hours, appointments are fluid – depending on the tides and swells (see FAQ).